WE MAKE MONEY FOR OUR CLIENTS BY GROWING THEIR SHARE OF THE HISPANIC MARKET
Nationwide Hispanic research capabilities to deeply explore the market and gather actionable knowledge.
Solid methodology to create innovative Hispanic marketing strategies focused on sustainable growth.
Going from strategy to revenue with a sense of urgency and obsessive attention to detail.
SOME OF OUR RECENT THINKING
To address the growing need for information about the Hispanic market, Agua will host free quarterly webinars about generating revenue from Hispanic
TWITTER
Friday, October 16th, 2015 at 7:05am
Free #marketing webinar - The #Hispanic Wave: making money in the new America. Oct 29 #LatinSmarts http://t.co/i1ZbdABIMf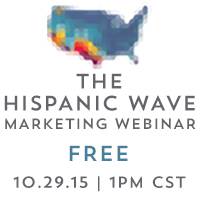 FACEBOOK
Agua Hispanic Marketing shared Houston Museum of Natural Science's photo.
Monday, November 23rd, 2015 at 12:40pm
We're thrilled for the opportunity to work with the Houston Museum of Natural Science in increasing the number of Hispanics...
30462 915 View on Facebook
Agua Hispanic Marketing
Friday, October 16th, 2015 at 6:21pm
Free Hispanic marketing Webinar: The Hispanic Wave - What you need to know to make money in the new America
227 1 View on Facebook
Agua Hispanic Marketing
Friday, October 16th, 2015 at 8:55am
View on Facebook